Sydney 1 September 2023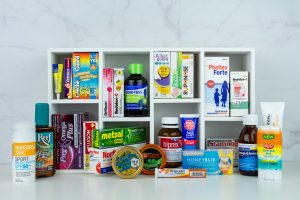 The Australian Investment Council has awarded Pacific Equity Partners ("PEP") its Large Cap Investment Award for its 2017 investment in iNova Pharmaceuticals ("iNova"), a leading consumer healthcare company that sells a portfolio of over-the-counter and prescription products in Australia and New Zealand, South Africa and Asia.
Accepting the Award, Terry Miu Neeland, Director for PEP said: "We are very grateful to have been supported by a number of co-investment partners on iNova. And we also thank and acknowledge our investment partner the Carlyle Group for all of their contributions to the success of iNova."
"We are delighted by the transformation that iNova has made in the last 5 years from a prescription centred business to a consumer health platform, and its fast growing expansion in Asia. All of this was made possible by iNova's Group CEO Dan Spira and his incredible senior management team, who navigated the business through a very complex corporate carve-out and a difficult COVID operating environment."
"We are very pleased to retain a position in iNova with TPG as our new partner and are excited about iNova's next phase of growth, particularly with the pending transformative acquisition of Mundipharma's consumer healthcare assets." Ms. Miu Neeland said. PEP first invested in iNova through PEP Fund V in 2017, via a 50/50 joint venture with The Carlyle Group. iNova provided an opportunity to re-invigorate the non-core subsidiary of a multinational pharmaceutical company. Over the investment period, the business grew the contribution of its leading consumer healthcare brands to 70% of total sales, and invested in marketing and commercial capabilities to grow the platform in Asia. iNova has also enhanced its innovation capabilities to support organic growth and completed 15 bolt-on acquisitions.
PEP and Carlyle made the decision to sell iNova in 2022 and after an extensive and global sale process, the successful bidder was TPG Capital; a global alternative asset manager with US$139 billion in assets under management.
PEP also saw the opportunity to continue with the business on the next phase of its journey, and PEP Fund VI and co-investors now hold a minority position alongside management. Over a period spanning two years and throughout the sale process, PEP managed to successfully keep active a transformative acquisition opportunity to acquire the globally recognised Betadine brand assets from Mundipharma. This acquisition has now been signed under the new ownership structure.
About Pacific Equity Partners
PEP is Australasia's oldest and largest private equity firm, with $8B AUM across various investment strategies. Since 1998, PEP has made more than 190 acquisitions and delivered an average Gross IRR since inception of 41% p.a.  Our distinctive culture – built on a team-based approach of apprenticeship and longevity – and a consistent, disciplined investment focus have delivered strong, consistent results for our investment partners. PEP is celebrating its 25th year anniversary in 2023. Information on PEP and its investee companies can be found at www.pep.com.au
About iNova Pharmaceuticals
iNova Pharmaceuticals is a multinational pharmaceutical and consumer health care company that markets and sells a wide range of market-leading products, primarily in the areas of cough & cold, throat, skin care and natural health. iNova Pharmaceuticals operates in over 20 countries across Asia-Pacific and Africa. iNova Pharmaceuticals' vision is to provide trusted brands that improve people's health and well-being every day. More information about iNova Pharmaceuticals can be found at www.inovapharma.com.